The 17 Best Beach Towns for a Low-Cost Retirement in Southeast Asia—InternationalLiving.com
InternationalLiving.com's new Southeast Asia report and interactive map highlight the 17 best towns, villages, and cities in the region for an expat's beachside retirement… on
Theo tin InternationalLiving.com
BALTIMORE, MD (PRWEB) OCTOBER 11, 2016
Known for its perfect beaches, low prices, and excellent scuba diving, Southeast Asia more often conjures images of young globe-trotting backpackers carousing at beach bars than it does aging expats lounging on the sand.
But adventuresome retirees looking for warm weather, rich culture, and excellent-value living would do well to consider their options in Thailand, Malaysia, Cambodia, Vietnam, and the Philippines.
International Living's new report and interactive map puts 17 of the top-value picks in the region at users' fingertips—destinations chosen by International Living's team of expat correspondents and editors based in the region.
Take Hua Hin, Thailand, for example. Located on the eastern coast of the country on the Gulf of Thailand, it's a popular resort town that offers year-round temperatures in the mid-80s F, sandy beaches, turquoise waters, great restaurants, a lively arts scene, and seven golf courses—so there's plenty to do. Yet despite its resort-town status, Hua Hin remains remarkably affordable. International Living Southeast Asia Correspondent Kirsten Raccuia reports that a single expat can live in Hua Hin on a monthly budget, not including rent, of $610, which "includes a weekly massage for $8, health insurance, and a round of golf" as well as "eating out at least twice a day."
Another example of a good-value destination in Southeast Asia is Kota Kinabalu, the capital of the state of Sabah on the island of Borneo. Kota Kinabalu is a growing resort destination, and International Living Editorial Director Eoin Bassett says, "There are foreign retirees here and costs are low. You'll rent from as little as $335—that's short-term and flexible—and added to that your monthly costs range from $600 to $1,500 depending on the lifestyle you choose."
Each of the 17 beach towns and cities featured in International Living's new report contain similar examples—all beach destinations worth the attention of expats intrigued by the idea of an adventure in retirement that won't break the bank.
Affordability figures prominently in the criteria used to select these great-value retirement destinations. But in addition to the cost of living, other important attributes help make a place comfortable and attractive for day-to-day living, including: ease of integration; access to quality medical care; a comfortable climate; good infrastructure; proximity to amenities, entertainment venues, natural wonders, and more.
International Living's full report on and interactive map of Southeast Asia, featuring its best beach towns and cities for low-cost retirement, can be found at: Southeast Asia – Where Beach Living Comes at an Affordable Price.
Editor's Note: Members of the media have permission to reproduce the article linked above once credit is given to InternationalLiving.com.
For information about InternationalLiving.com content republishing, source material or to book an interview with one of our experts, contact Associate Editor Carol Barron, 772-678-0287 (US), CBarron(at)InternationalLiving(dot)com or visit the Media Center.
For 36 years, InternationalLiving.com has been the leading authority for anyone looking for global retirement or relocation opportunities. Through its monthly magazine and related e-letters, extensive website, podcasts, online bookstore, and events held around the world, InternationalLiving.com provides information and services to help its readers live better, travel farther, have more fun, save more money, and find better business opportunities when they expand their world beyond their own shores. InternationalLiving.com has more than 200 correspondents traveling the globe, investigating the best opportunities for travel, retirement, real estate, and investment.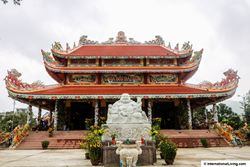 http://www.prweb.com/releases/2016/10/prweb13750734.htm